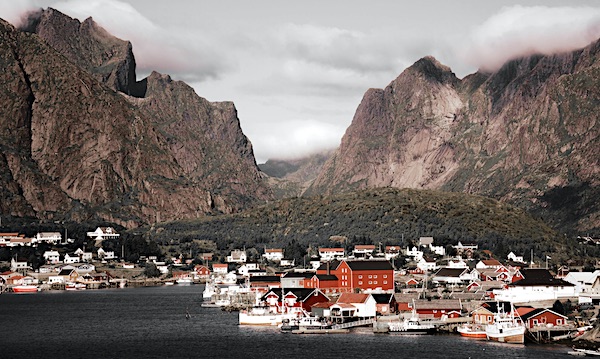 With the right interventions, Norway could increase its circularity up twenty times. That is a conclusion from the the Circularity Gap Report, Norway. The report is launched by Circle Economy and Circular Norway.
The report finds that that the Norwegian economy is only 2.4% circular. This is compared to a global average of 8.6%, 9.7% in Austria and 24.5% in the Netherlands.
Currently, 97.6% of materials consumed each year never make it back into the Norwegian economy. Norway also has one of the highest per capita consumption rates in the world, at 44.3 tonnes per person. But our report shows that Norway has enormous potential: With the right interventions, the country could see a 20-fold increase in its circularity. 
The way forward is circular
In the face of the climate emergency and the EU's decision to strive for full circularity, Norway's need for a circular transition is urgent. Our report shows that the country can become 45.8% circular by restructuring business and industry. It dives into six scenarios for a potential way forward and explores how governments and businesses can facilitate circular consumption and prepare the labour market for the transition.
With a good tripartite cooperation in Norwegian employment, a highly-educated and digitally competent population and a long history with renewable energy and plastic recycling, Norway is well set to become a pioneer in the circular economy.
'The report shows that the framework for success in a transition to a circular economy is in place, but it requires effort. We are impressed by the breadth of Norwegian business and industry that supports the report and are willing to adapt to the circular economy', says Leif Nordhus, CEO of Circular Norway.
Norway has decided to switch to a circular economy
The EU and Norway have decided to shift from a linear to a circular economy. This means shifting from a 'use and throw away' culture to a culture of 'reuse and redesign'. In the last year, the EU has implemented the European Green Deal and the Circular Economy Action Plan as part of becoming the first zero-emission continent by 2050. To achieve this, the EU will move toward becoming a fully circular economy. The EU is Norway's most important trading partner, so Norway must also adapt to a circular economy. A circular economy can also protect precious resources, safeguard environmental health in the face of a warming climate and contribute to a more equitable society.
The analysis is a deep dive into making the Norwegian economy more circular, into how to prepare the labour market as the country becomes more circular to protect current – and create new – jobs, and in encouraging circular behaviour among consumers. This provides a strong factual basis to create a circular economy in Norway. This is in line with the government's goal that 'Norway shall be a pioneer in the development of a green, circular economy that utilises resources better, and shall prepare a national strategy for a circular economy.' (Granavolden declaration).
Norwegian consumption one of the globe's highest
Norway has one of the highest per capita consumption rates in the world at 44.3 tonnes per person. The report shows that if everyone were to live like Norwegians, we would need the equivalent of three and half globes worth of resources. Today, few Norwegian consumers choose products made from recycled materials or services and products from sharing platforms that are circular. Rather, they buy new products rather than repair them. Whole sectors, such as construction, also do not reuse the waste material as buildings are demolished, leading to more waste. This needs to change.
Norway can become 45.8% circular by restructuring Norwegian business and industry. The report dives into six scenarios that could contribute to the necessary changes towards a sustainable, circular economy: 1) a circular construction industry, 2) the transition to clean energy, 3) circular food systems, 4) green transport systems, 5) a strong repair, reuse and recycling economy and 6) circular forestry and wood products.
The government has not set a specific target for how circular Norway should be, but according to the report, Norway can reach a circular share of 45.8% by facilitating and restructuring the national business community.
About the Circularity Gap Reporting Initiative
The Circularity Gap Reporting Initiative highlights the urgent need to transition to a circular economy. We aim to empower key decision makers in both government and business to coordinate action to accelerate that transition. We do this by measuring current states of circularity and by bringing together stakeholders from businesses, governments, academia and NGOs to input and evaluate our findings on the state of the transition based on the latest scientific evidence.