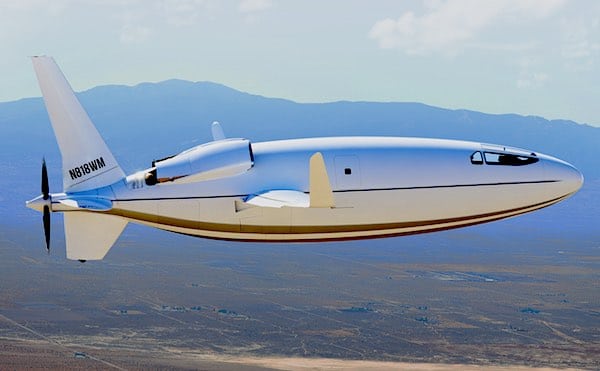 Otto Aviation created the Celera 500L, the most fuel-efficient commercially viable passenger aircraft in the world. The full-scale prototype has completed 31 successful test flights at 20% of the fuel consumption of comparable aircraft. 
The aircraft has a maximum cruise speed of 450 miles per hour, a range of over 4,500 miles, a large stand-up cabin and an astounding fuel economy of only 18 to 25 miles per gallon. The dramatic reduction in fuel consumption makes the Celera 500L the most environmentally friendly airplane in its class and presents a major leap forward in the effort to develop a zero-emission air transportation system. 
The Celera 500L utilizes extensive laminar flow over the fuselage, wings, and tail surfaces to reduce drag and achieve superior aerodynamics, speed, and fuel efficiency. The manufacturing detail delivers cruise efficiencies unmatched by conventional aircraft while offering a clean-sheet design that will completely alter the way people and parcels travel. 
As a result, individuals and families will be able to charter the Celera 500L at prices comparable to commercial airfares, but with the added convenience of private aviation. 
The Celera 500L offers many game-changing benefits including: 
The ability to travel privately at costs comparable to commercial airline tickets.
Direct access to over 5,000 regional airports, allowing passengers to avoid airport congestion and arrive closer to their destinations.
Emission levels that already surpass the FAA and ICAO target emissions standards for aircraft entering service in or after 2031 by over 30%.
Reduction in carbon emissions by over 80% compared to a similar business aircraft and by 40% compared to the latest commercial transport aircraft.
Otto Aviation has designed the aircraft to meet the highest level of safety and compliance with FAA and international aviation regulations. In addition, the ability to fly privately has become very attractive to passengers due to the current global health crisis.A Series B funding round for Otto Aviation is now open. William Blair & Company is advising Otto Aviation on the transaction. 
Bijna iedereen voelt de crisis, ook wij bij Duurzaamnieuws. Een groot deel van onze inkomsten is weggevallen en we vallen buiten de steunmaatregelen. Toch gaan we door, want als dit voorbij is wordt een duurzame opbouw harder nodig dan ooit. Kun jij ons meehelpen om er doorheen te komen? Word dan lid, of help ons met een donatie. -
Hier kun je lid worden.
-
En hier kun je doneren.
Alvast bedankt - en blijf gezond!
Team Duurzaamnieuws